NingXia Red
NingXia Red is a wonderful, antioxidant supplement to support the whole body and overall wellness.  Our family loves NingXia Red!  We look forward to drinking it every day.  NingXia Red is a combination of wolfberries (Goji berries), plum, aronia, cherry, blueberry, and pomegranate juices/extracts, along with lemon, orange, yuzu, and tangerine essential oils blended with pure vanilla extract.
NingXia Zyng provides an excellent alternative to artificially flavored and colored sodas.  NingXia Zyng combines wolfberries with sparkling water, pear and blackberry juices, lime and black pepper essential oils, along with white tea extract.
For an added boost, NingXia Nitro combines essential oils and botanical extracts with Korean gingseng, D-ribose, and green tea extract to promote cognitive and physical alertness and fitness.  The tubes easily fit into a briefcase, desk, or gym bag.  So you can always have it when you need it.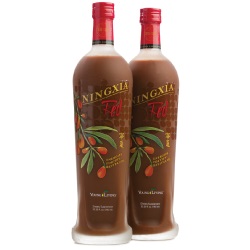 NingXia Red 2 Pack
NingXia Red 4 Pack
NingXia Red Singles 30 ct
NingXia Red Singles 60 ct
NingXia Red Singles 90 ct
NingXia Red Combo Pack
NingXia Red Essential Rewards Kit
Ningxia PSK
NingXia Zyng™
NingXia NITRO
YL #2562756